Today, we're announcing America's Clean Power Plan—the most important step we've ever taken to combat climate change. Here are the facts:
Right now, power plants account for about one-third of America's carbon pollution. That's more than our cars, airplanes, and homes combined.
It's time to change that. With the Clean Power Plan, by 2030, carbon pollution from power plants will be 32% lower than it was a decade ago.
President Obama's #CleanPowerPlan will ↓ carbon pollution from power plants by 32% by 2030 → http://go.wh.gov/CleanPowerPlan 
Excerpt from above link:
REDUCING CARBON POLLUTION FROM POWER PLANTS
Power plants are the largest major source of emissions in the U.S., together accounting for roughly one-third of all domestic greenhouse gas pollution.
PROGRESS:
In August 2015, President Obama and EPA established the Clean Power Plan — the first-ever carbon pollution standards for existing power plants, which will protect the health of our children and put us on a path toward a 32 percent reduction in carbon pollution by 2030.
http://www2.epa.gov/cleanpowerplan
 Clean Power Plan for existing power plants
 Carbon Pollution Standards for new, modified & reconstructed power plants
 Proposed Federal Plan and Model Rule for the Clean Power Plan
 http://www2.epa.gov/cleanpowerplan/clean-power-plan-existing-power-plants
 Fact sheets: 
 Overview of the Clean Power Plan: Cutting Carbon Pollution from Power Plants (PDF)(9 pp, 240 K,About PDF)
Excerpts:
HOW THE CLEAN POWER PLAN WORKS
1. The Clean Air Act – under section 111(d) – creates a partnership between EPA, states, tribes and U.S. territories – with EPA setting a goal and states and tribes choosing how they will meet it.
2. The final Clean Power Plan follows that approach. EPA is establishing interim and final carbon dioxide (CO2) emission performance rates for two subcategories of fossil fuel‐fired electric generating units (EGUs):
Fossil fuel‐fired electric steam generating units (generally, coal‐ and oil‐fired power plants)
Natural gas‐fired combined cycle generating units
3. To maximize the range of choices available to states in implementing the standards and to
utilities in meeting them, EPA is establishing interim and final statewide goals in three forms:
A

rate

‐based state goal measured in pounds per megawatt hour (lb/MWh);
A

mass‐

based state goal measured in total short tons of CO2;
A

mass

‐based state goal with a

new source complement

measured in total short tons of CO2.
4. States then develop and implement plans that ensure that the power plants in their state either individually, together or in combination with other measures – achieve the interim CO2 emissions performance rates over the period of 2022 to 2029 and the final CO2 emission performance rates, rate‐based goals or mass‐based goals by 2030.
STATE PLANS 
In developing its plan, each state will have the flexibility to select the measures it prefers in order to achieve the CO2 emission performance rates for its affected plants or meet the equivalent statewide rate‐ or mass‐based CO2 goal. States will also have the ability to shape their own emissions reduction pathways over the 2022‐29 period.
States may choose between two plan types to meet their goals:
The final rule also gives states the option to work with other states on multi‐state approaches, including emissions trading, that allow their power plants to integrate their interconnected operations within their operating systems and their opportunities to address carbon pollution.
STATE PLAN TIMING 
States will be required to submit a final plan, or an initial submittal with an extension request, by September 6, 2016. Final complete state plans must be submitted no later than September 6, 2018.
Comments from the press on the "Clean Power Plan"
By the NYT editorial board 2015-08-03
Excerpt:
It imposes the first nationwide limits on carbon dioxide pollution from power plants, the source of 31 percent of America's total greenhouse gas emissions.
Their main goal is a nationwide reduction in carbon dioxide emissions of 32 percent by 2030, from a 2005 baseline. Among their many selling points is flexibility: The rules assign each state a specific target for reducing carbon pollution from plants inside its borders, but allows them to develop custom-tailored plans for meeting these targets. States can choose from a menu of options to meet their targets: switching from coal to natural gas, ramping up wind and solar, reducing energy consumption with so-called demand-side efficiencies, engaging in cap-and-trade systems with other states.
http://www.nytimes.com/2015/08/04/opinion/obama-takes-a-crucial-step-on-climate-change.html
By RICHARD L. REVESZ and JACK LIENKE
Nearly 45 years ago, an almost unanimous Congress passed the Clean Air Act, which had the remarkably ambitious goal of eliminating essentially al lair pollution that posed a threat to the public.
But however lofty its goals, the law contained a terrible flaw: Existing industrial facilities — most notably, electric power plants — were largely exempt from direct federal regulation. 
This "grandfathering" of old power plants didn't seem terribly consequential at the time. Soon enough, it was thought, those plants would run out their useful lives and close down, making way for new facilities that would be subject to federal standards. (cf last paragraph excerpt)
But that expectation turned out to be wrong. By instituting different regulatory regimes for new and existing plants, Congress had significantly altered the math behind decisions to retire plants. A system that subjected new plants to strict emissions controls but allowed old plants to pollute with impunity gave those old plants an enormous comparative economic advantage and an incentive for their owners to keep operating them much longer than they would have otherwise.
By the late 1980s, it was clear that the central goals of the Clean Air Act would never be achieved if these grandfathered coal plants were not regulated more stringently. Every president since then, whether a Democrat or Republican, has taken meaningful steps to slash pollution from existing plants, in most cases relying not on new legislation but on previously neglected provisions of the Clean Air Act itself. The statute has, in this sense, held the keys to its own salvation.
Excerpt:
Traditionally, the economically useful life of a coal-fired plant was thought to be about 30 years. As of 2014, coal-fired plants in the United States had been operating for an average of 42 years, and many plants had been in service far longer. Some date all the way back to the 1950s, meaning they have already been running for twice their expected life span. Unsurprisingly, these clunkers tend to pollute at a far higher rate than more modern plants.
#Climate change: Obama unveils #CleanPowerPlan @BBCNews http://buff.ly/1DlwwDH 
Excerpt:
Why are some US states opposed?
Coal mining states such as Wyoming, West Virginia and Kentucky fear their economies would suffer and people would be laid off.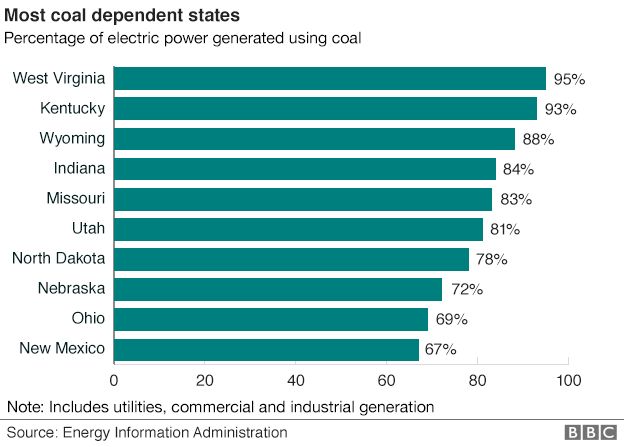 From BBC page (cited in tweet above)
Additional US governement resources for the "Clean Power Plan"
Press release
https://www.whitehouse.gov/the-press-office/2015/08/03/fact-sheet-president-obama-announce-historic-carbon-pollution-standards
The White House retweeted
Here are the 6 most important things you should know about today's #CleanPowerPlan: medium.com/@GinaEPA/6-thi…. It's time to #ActOnClimate!
Excerpt:
IT PUTS STATES IN THE DRIVER'S SEAT.
States then customize plans to meet their goals in ways that make sense for their communities, businesses, and utilities. Statescan run their more efficient plants more often, switch to cleaner fuels, use more renewable energy, and take advantage of emissions trading and energy efficiency options.
Because states requested it, EPA is also proposing a model rule states can adopt right away — one that's cost-effective, guarantees they meet EPA's requirements, and will let their power plants use interstate trading right away.
But states don't have to use our plan — they can cut carbon pollution
in whatever way makes the most sense for them.
The uniform national rates in the Clean Power Plan are reasonable and achievable, because no plant has to meet them alone or all at once. Instead, they have to meet them as part of the grid and over time. In short, the Clean Power Plan puts states in the driver's seat.
Statements by the UN