U.S. Companies "Act on Climate" Pledge
RT the good news: U.S. companies just committed at least $140 billion to #ActOnClimate → http://go.wh.gov/ClimatePledge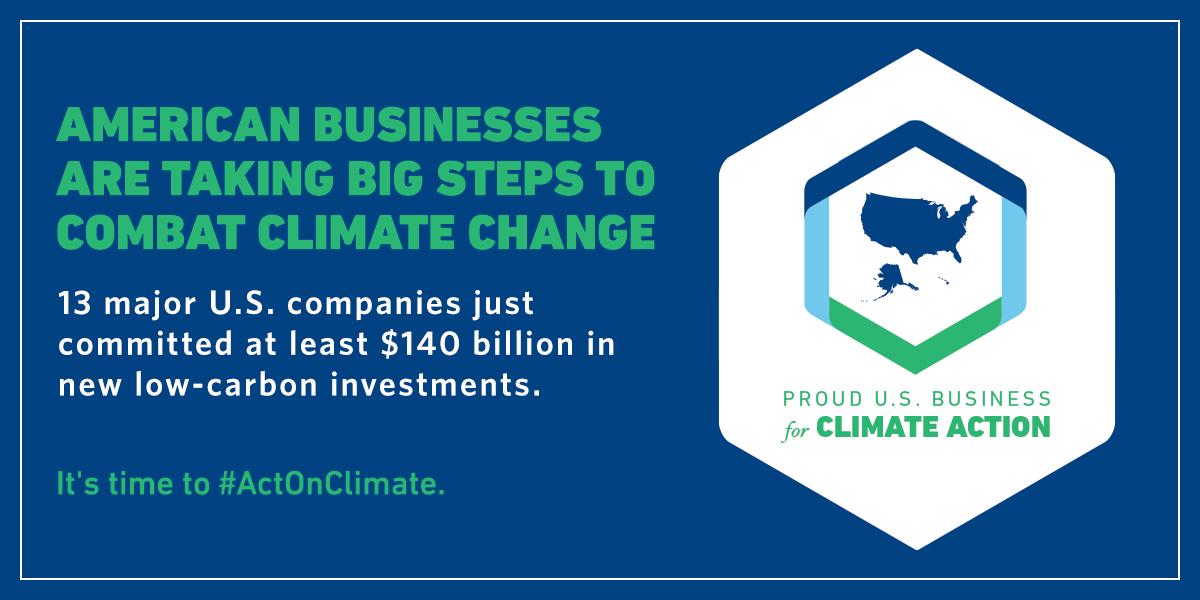 Excerpt 1:
Today at the White House, Secretary of State John Kerry and senior White House officials will host 13 of the largest companies from across the American economy who are standing with the Obama Administration to launch the American Business Act on Climate Pledge: Alcoa, Apple, Bank of America, Berkshire Hathaway Energy, Cargill, Coca-Cola, General Motors, Goldman Sachs, Google, Microsoft, PepsiCo, UPS, and Walmart. 
Excerpt 2:
The President's Climate Action Plan, when fully implemented, will cut nearly 6 billion tons of carbon pollution through 2030, an amount equivalent to taking all the cars in the United States off the road for more than 4 years. And while the United States is leading on the international stage and the federal government is doing its part to combat climate change, hundreds of private companies, local governments, and foundations have stepped up to 
increase energy efficiency
, 
boost low-carbon investing
, and 
make solar energy more accessible
 to low-income Americans.
Excerpt 3:
All told, today's announcements total at least $140 billion in new low-carbon investment and more than 1,600 megawatts of new renewable energy, in addition to ambitious, company-specific goals to cut emissions as much as 50 percent, reduce water intensity as much as 15 percent, purchase 100 percent renewable energy, and pursue zero net deforestation in supply chains.
Setting an example for their peers. Today's announcements are only the beginning. This fall, the Obama Administration will release a second round of pledges, with a goal of mobilizing many more companies to join the American Business Act on Climate Pledge. In addition, on October 20-21, Secretary Kerry will convene a forum at the State Department to highlight American leadership in climate investment and innovative solutions to our toughest climate finance challenges.
Thirteen US companies pledge US$140 billion towards #climateaction: http://1.usa.gov/1In49Rh .