Syria Peace Talks 13-27 April 2016 (3rd round)
Summary 
HNC delegation on previous round had provided a series of substantive papers according to De Mistura on the nature of the political transition and had been praised for being constantly ready to elaborate on these with the facilitator. HNC positions were further discussed on this round.
Government accepted "political transition" vocabulary after constant references to counterterrorism (i.e.rebels) in previous round. Issued a paper in reply to De Mistura previous summary document but it seemed beyond scope.
#DeMistura briefing on #SyriaTalks on 2016-04-28
28 Apr 2016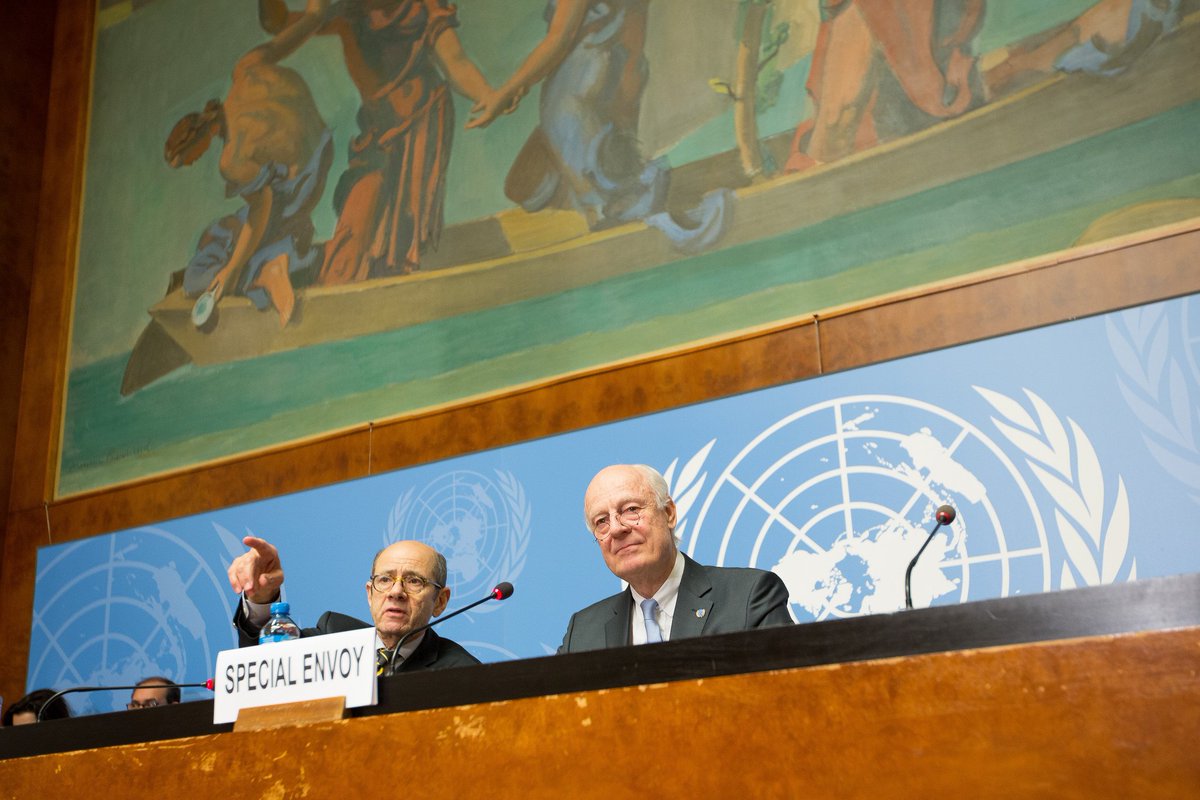 Excerpts: 
"The word transition was taboo. Not any more."
"Everyone acknowledges that that is the agenda. Second, there is a clear understanding that a credible political transition should be overseen by a new – I repeat, new – credible and inclusive transitional governance which will be replacing the present governance arrangements. The other common point is that the transitional governance should include members of the present Government, opposition, independents and others. 
And next point: That Syria does require a new constitution. And that the key responsibility for this transitional governance will be, in fact by the transitional governance, will be to oversee the drafting of this new constitution. Next point: That women should enjoy equal rights and representation in every institution. We need to test that, of course. It's easy to say and often is said. We need to test it. When I look at delegations, I'm not seeing it yet. The next point is that any new governance shall be agreed upon in UN-facilitated intra-Syrian talks on the basis of mutual consent. 
Having said that, no denial that there are still major differences officially on the major issues. But you can see that there is a movement in a certain area, which before you didn't have an idea that that could have been the case.
(...)
Apart from proximity talks, what we have been doing is also now using technical meetings, in the hotel or in the building, in order to get deeper on these types of aspects. Otherwise, we would not have been able to detect these commonalities."
#DeMistura publishes 'Mediator's Summary of 13-27 April #Syria Talks on 2016-04-28
28 Apr 2016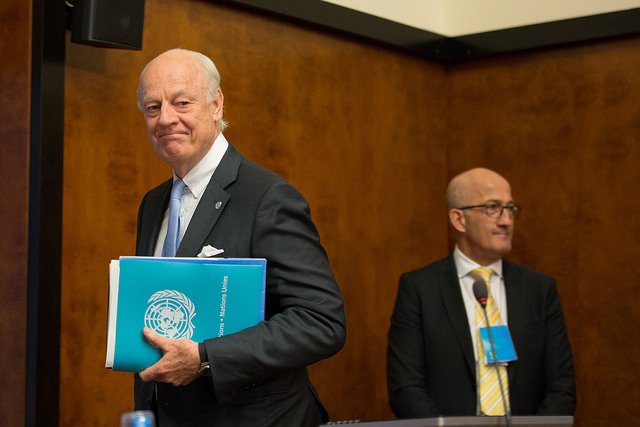 Excerpts:
"The Special Envoy can confirm that the agenda of political transition is now accepted by all participants, who indicated a readiness to engage on political transition and governance during this round of Talks."
Seven formal proximity sessions with the Government of Syria delegation
"The Government Representative confirmed that such a mechanism consisted of the establishment of a Broad-Based National Unity Government, which included members of the government, opposition, independents, and others, and is formed on the basis of consensus.
The Government also set out its response to the Special Envoy's Paper on Points of Commonalities, issued at the end of the Second Round, which identified some core essential governing principles. The Special Envoy took note of this contribution but indicated that the focus of this round of Talks remained political transition (...)"
Three formal proximity sessions with HNC delegation and four technical meetings with their experts 
"Prior to this round, the opposition HNC delegation had begun to elaborate upon its vision of a political transition through the submission of a significant number of substantive papers that focused on the establishment and functions of a Transitional Governing Body with full executive and legislative powers during the transition. That vision was further defined during the course of this round of Talks." 
"(...) discussion continued through four technical sessions held between the Office of the Special Envoy (OSE) and the opposition HNC delegation's experts."
Consultations with members of the Moscow and Cairo Platforms, Internal Platform, OSE's Women Advisory Board (WAB) and representatives of Syrian civil society
Interesting note from link cited by "Syria Institute"
http://tass.ru/en/world/862981 Excerpt:
One of the group leaders, Jihad Makdissi, also said the Moscow-Cairo group does not compete with the group formed in Riyadh for a leading role at peace talks in Geneva.
"An excellent delegation was formed at a meeting in Riyadh," he said. "We do not compete with them. We are components in the cause of settlement in line with UN Security Council Resolution 2254."
Commonalities on political transition

"The present round of Talks confirmed that substantial differences exist between the two negotiating parties on their visions of the transition as well as on the interpretation of resolution 2254 (2015)."
"Notwithstanding this, a number of points of commonalities on political transition have emerged"
Read more at bit.ly/239cnrc (link of the tweet above) 
Comments on the talks by the "Syria Institute" on their "Intra-Syrian Geneva Talks" Blog

Blog Link for this round
Excerpt:
"The bottom line is that in two rounds of negotiations – three if you consider the aborted January attempt to convene talks – De Mistura has finally gotten the Syrian government to include the phrase "political transition" in its vocabulary. But, there has still not been progress on discussing details or practical steps towards this transition and serious doubts remain whether the Syrian government's vision of "transition" is anything more than a rebranding of the current government, complete with Assad at the helm."
Copied below an excerpt from  "Friday, 15 April 2016 DAY THREE – The Syrian Government Arrives"
"Meanwhile, rumors circulated that during his meeting with the HNC, De Mistura proposed a transitional government in which Assad stays in power, with three empowered Vice Presidents appointed from across the political spectrum. The HNC did not publicly acknowledge that such a proposal was made, but according to reports this idea was quickly rejected.(...)"
Previous (2nd) round - Day 2 | 2016-04-14: Syria's main opposition group willing to share membership of a transitional governing body with many current members of the Assad government but not with Assad himself
via Reuters (cited at Syria's Institute Blog)
"There are many people on the other side who we can really deal with," Salim al-Muslat, spokesman for the High Negotiations Committee, said on the second day of a round of U.N.-mediated peace talks.
"We will have no veto, as long as they don't send us criminals, as long as they don't send us people involved in the killing of Syrians," he said.
Previous (2nd) round: Syria opposition HNC praised by De Mistura - "Both sides behaved seriously" 
(2016-03-18 & 2016-03-24)
Citation at this link of Syria's Institute Blog, Day 5 of 2nd (previous) round 
"By contrast, De Mistura once again praised the HNC for their progress into substance, saying: (...)
Excerpt from cited transcript:
"And then I had a meeting with HNC (...) who have already produced substantive papers, they had gone deeper and I must say I am quite impressed by the level of depth in which they have been ready and ready, to engage the facilitator, the mediator, my team with substantial points regarding already their own vision of governance, hence political transition."
Citation at this link of Syria's Institute Blog, Day 9 of 2nd (previous) round 
"going so far as to specifically recognize HNC delegation member Basma Kodmani for her professionalism and statesmanship during the press stakeouts"
Excerpt from cited transcript:
"Meanwhile, and now we get into the actual analysis of these talks, I must say, and I don't know whether you felt the same, but I was quite impressed by the fact that both sides behaved very seriously. You must have seen them when they came to be interviewed – very professionally, even I must say, those who we could have expected to be not well prepared because they are a new entity, like the HNC.
Particularly I must say, one or two of them when they spoke; today you saw Madam Basma with what focus and professional outlook, everyone too, but she in particular, responding in English, calmly, professionally, statesmanship.
So we kept the momentum, waiting for the combination of the two political movements to coincide. The support of this cessation of hostilities kept."
2016-03-31 : Assad says it would not be difficult to agree on a new Syrian government including opposition figures