Russia-Ukraine agreement on the new Gas Winter package 2015/2016 (mediated by the EU)
Implementation as of 2015-10-12
In accordance with the Minsk Declaration of 12 February 2015
Excerpt from press release:
"The two parties, under the mediation of the European Commission, represented by Vice-President Šefčovič, agreed on the terms and conditions of gas deliveries from Russia to Ukraine, notably on purchase price, payment conditions, guarantee of transit and conditions for financing."
Reuters article:
http://www.reuters.com/article/2015/10/13/us-russia-ukraine-gas-sefcovic-idUSKCN0S722220151013
EU, Russia, Ukraine Trade Talks for Blueprint generation in October
Joint Operational Conclusions from the trilateral #EU/#Russia/#Ukraine trade talks today: europa.eu/!tw69WU @MalmstromEU
Excerpt: "finding practical solutions to Russian concerns about the implementation of the DCFTA"
#EU-#Russia-#Ukraine trade talks: to develop a blueprint by October 2015 #DCFTA http://europa.eu/!tw69WU  @MalmstromEU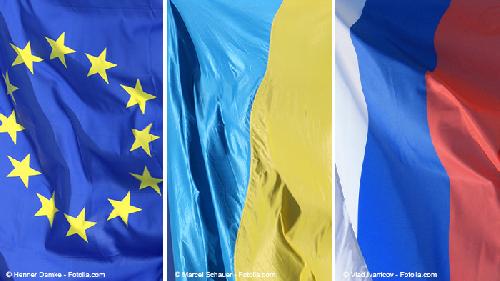 Cited link in above press release
Joint Operational Conclusions by the European Commission, the Russian Federation and Ukraine
May 2015
The Parties have reiterated their commitment towards the development of trade in the region as a means to achieve inclusive economic growth.
Customs cooperation
Technical barriers to trade (TBT)
Sanitary and Phytosanitary issues (SPS)
THE MINSK 2014 RUSSIA-UKRAINE AGREEMENT
From the RT link of the show by Oksana Boyko:
"The Ukraine crisis has given new significance to the OSCE as a conflict resolution instrument. But despite its efforts to bring about an end to the bloody conflict, a sustainable solution has proven elusive. What is needed to bring all sides to the table for a workable compromise? And how successful has the Swiss-chaired OSCE been in achieving these aims? Oksana is joined by Tim Guldimann, the personal envoy of the OSCE chairperson on Ukraine, to discuss these issues."
Comment: Note that Tim Guldimann has also been involved in the Chechnya crisis. A comparison of the two crises is mentioned during the show.
Organization for Security and Co-operation in Europe (OSCE)
Protocol on the results of consultations of the Trilateral Contact Group, signed in Minsk, 5 September 2014
Publisher: Organization for Security and Co-operation in Europe  
Date: 5 September 2014
Language: Russian
(cited at the link below)
BERN, 5 September 2014 - OSCE Chairperson-in-Office and Swiss Foreign Minister Didier Burkhalter welcomed today's 
agreement
 in Minsk on a ceasefire and on launching a political process to resolve the crisis. Emphasizing the opportunity to finally reverse the logic of escalation, he said that this conflict had caused far too much bloodshed and misery already and urged all sides to implement today's commitments. 
Note: Tim Guldimann commenting on the fact that the Minsk agreement was not effective, will stress the importance that after hard work an agreement came into existence. It is not about a diplomatic dialogue that goes on and on and does not reach a concensus. We suggests that the involved parties should try to work on the implementation of the agreement.
(please note that the above conclusion was written by the author of this site; this specific discussion can be found at time point 21:00 approximatively)
Pictures from the discussion follow.
Understanding the Ukraine crisis
A video publication of LeMonde.fr
Ukraine: Understanding the origins of the crisis in five minutes
http://www.lemonde.fr/europe/video/2014/02/27/pourquoi-l-ukraine-est-elle-tiraillee-entre-europe-et-russie_4375125_3214.html 
Conception: F. Fattori, F. Holzinger, M. Gérard, J. Gautheret
Cartography: J. Grandin, V. Malécot
Narration and Creation/Production: D. Walther

Strategic Position
Ideal Position of Crimea at the Black Sea
Sebastopol port: An important naval base
Energetic Dependence
58% of gas comes from Russia

In 2010, after its crisis, Ukraine develops strong trade relationships with the EU: 37,7 billion euros vs 24,1 bilion euros with Russia
EU proposes to integrate Ukraine in an "Eastern Partnership". This is a project addressed to other former USSR republics as well, 
with a double agreement of association and free trade. 
Putin views Ukraine as a centrepiece of a Customs Union, a forerunner/prefiguration of a Eurasian Union between many different ex-USSR republics.
At the end of 2013 président Viktor Ianoukovitch announces suddenly the end of negotiations with the EU and decides to approach Russia.
This causes anger in the population; it is considered to be a betrayal.