10th Arctic Council Ministerial Meeting - Fairbanks, Alaska
 
May 10th-11th 2017
Excerpt from briefing by David A. Balton, Deputy Assistant Secretary on May 8th 2017
https://www.state.gov/r/pa/prs/ps/2017/05/270728.htm
"So the Arctic Council is 20 years old. The eight nations of the Arctic created it through a – out of a declaration. It mostly focuses on sustainable development and environmental protection of the Arctic region. Every two years a different state of the Arctic takes over as chair. The United States assumed the chairmanship from Canada about two years ago at a meeting in Iqaluit in Nunavut, Canada.
We laid out at that time three principal areas of focus we hoped the Arctic Council would follow over the course of these two years that have come – that are coming to closure now. First, we were trying to improve the economic and living conditions of the people who actually reside in the Arctic, and I can talk about some of the projects that relate to that.
The second topic dealt with Arctic Ocean safety, security, and stewardship. As I think many of you know, the Arctic Ocean is opening up in a very real sense, so there are a lot of issues dealing with the increased human activity in the Arctic Ocean that we follow. And thirdly, we were dealing with adapting to climate change in the Arctic, strengthening our resilience and adaptation of Arctic communities in particular.
Some of the main things that you will hear about being brought to fruition this week: Now, one is a – the third binding agreement that the eight Arctic nations will sign. This one is on enhancing scientific cooperation in the Arctic. This was a negotiation that took place under the auspices of the Arctic Council, actually, over the course of several years. The negotiations themselves were co-led by Russia and the United States, and they have produced a binding agreement that we anticipate the Arctic ministers will sign on Thursday.
One other thing that has been completed already: For the first time ever, there is an assessment of the telecommunications infrastructure in the Arctic. Any of you who have spent time in the Arctic will know that there certainly are gaps and limitations in telecommunications here in the Arctic. Here, we spent two years with taking a hard look at that, with the idea that those gaps are to be filled over the next few years. Finland will take up this issue during its chairmanship, working with the private sector, trying to improve telecommunications delivery in the Arctic.
With the increase in Arctic shipping, we now have launched a new Arctic Shipping Traffic Database. The idea is to have a much better understanding of – in real time of ships that are coming into and going out of and passing through the Arctic region. This will help in the management of Arctic shipping going into the future.
And one other thing I would mention: In the past years, two other agreements that have been signed previously have been implemented rather successfully over the last two years. One relates to improving search-and-rescue in the arctic region, and the second relates to preparing and responding to potential oil pollution incidents in the Arctic. Over the last two years, there were joint exercises among the Arctic states on both of those, and I think we made a lot of progress in getting ready for things that might happen in the future.
Obviously, there are a couple of dozen other individual initiatives that are coming to fruition this week. If you are interested in knowing about more of them and about them in more detail, the Arctic Council website is a good resource for you."
State Dept facebook post 
https://www.facebook.com/usdos/posts/10154516456341074?pnref=story
Full text of agreement: https://go.usa.gov/x5hMP.
Sources: American Association of Petroleum Geologists, Bureau of Ocean Energy Management, IBRU at Durham University, Bordermap Consulting, KlimaCampus Integrated Climate Data Center, U.S. Geological Survey
The #Arctic is a critical part of the global climate system, helping to regulate temperatures and weather patterns. #GLACIER
ἄρκτος (arktos) = bear
Eight Arctic nations: Canada, Denmark, Finland, Iceland, Norway, Sweden, Russia, and USA.
Six indigenous populations.
No country owns the geographic North Pole* or the region of the Arctic Ocean surrounding it.
(*point on map below)
Above parties are members of the Arctic Council.
The Council operates on consensus basis, mostly dealing with environmental treaties and not addressing boundary or resource disputes.
US currently chairs @ArcticCouncil. Proud to join #GLACIER in #Alaska today to talk how we #ActOnClimate globally. pic.twitter.com/DdNj1Y3OCZ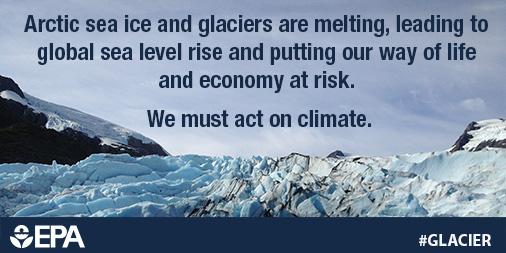 Information from wikipedia: https://en.wikipedia.org/wiki/Arctic
The surrounding six Arctic states that border the Arctic Ocean—Canada, Denmark (via Greenland), Iceland, Norway, Russia, and the United States—are limited to a 200 nautical miles (370 km; 230 mi) economic zone around their coasts. Two Arctic states (Finland and Sweden) do not border the Arctic Ocean.
http://www.state.gov/e/oes/glacier/index.htm
The Conference on Global Leadership in the Arctic: Cooperation, Innovation, Engagement and Resilience, or GLACIER, will highlight international and domestic priorities in the Arctic. The Department of State will host GLACIER in Anchorage, Alaska on August 31st.
#EU supports research to understand & predict changes in the #Arctic & assess their impact on northern latitudes @EU_H2020 #H2020
How does the Arctic affect you? Melting ice & rising sea levels=big challenges for US coastal communities. #GLACIER pic.twitter.com/KnYz5nLRbs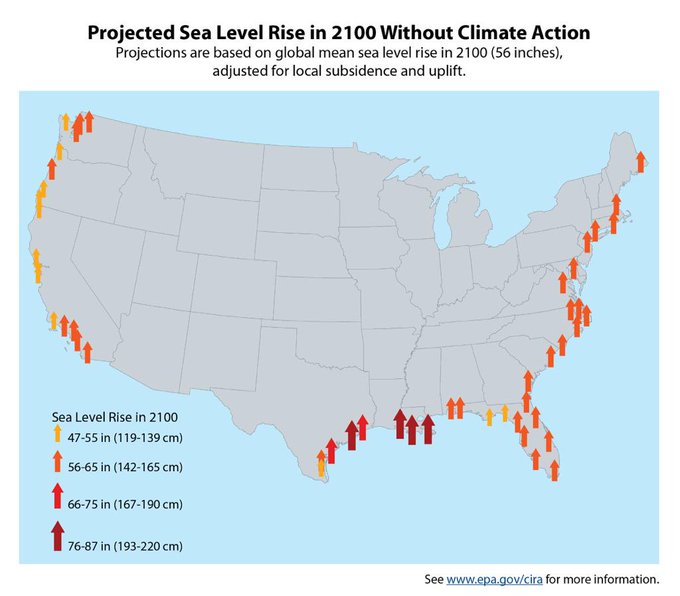 Department of State@StateDept
 2015-09-01
Just released! Foreign ministers at #GLACIER issue statement on #climatechange and the Arctic: http://go.usa.gov/3FUEB 
Thank you @JohnKerry for hosting #GLACIER conference in Alaska. A vital opportunity. #Arctic euintheus.org/press-media/co… pic.twitter.com/AknsfgFCmm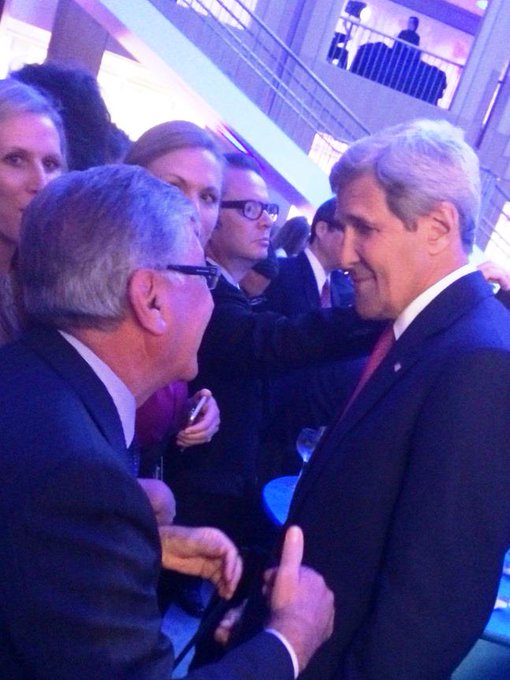 2015-09-01: US Chairmanship of the Arctic Council
addresses the GLACIER conference
President Obama's address 
Full transcript link cited in the article link below
Note that the word "arctic" is derived from the greek word 'άρκτος' meaning "bear".
.@POTUS makes Arctic appeal for #climateaction: ow.ly/RCMpp via @RTCCclimatenews @GRIDArendal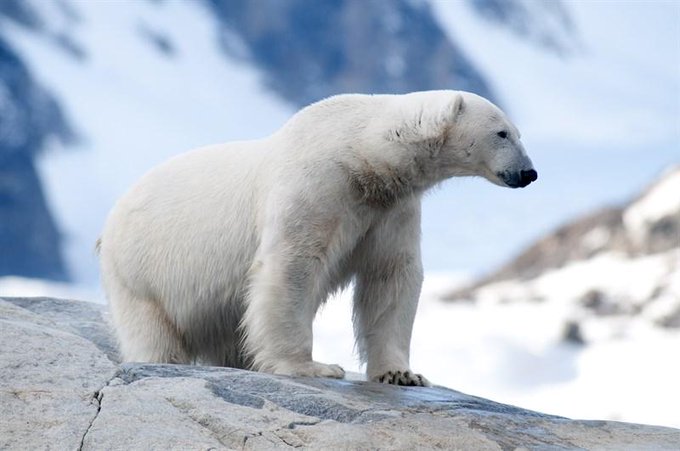 https://twitter.com/WhiteHouse/status/638517508929155072 (view video image)
The White House @WhiteHouse: Sea levels are "projected to rise another 1 to 4 feet this century." —@POTUS in Alaska #ActOnClimate pic.twitter.com/rLB8eDOY7L
Chair's Summary
Department of State@StateDept
Global leaders convened at #GLACIER to address #Arctic issues. Read the Chair's Summary: http://go.usa.gov/3FmBT 
Press roundtable
Department of State @StateDept: While in Alaska for #GLACIER today, @JohnKerry participated in a press roundtable. Transcript: go.usa.gov/3FQ7x pic.twitter.com/ZJaCYIx5cY
The US National Strategy for the Arctic Region
Learn more about the U.S. National Strategy for the #Arctic Region: ow.ly/RiJI1 #GLACIER #ActOnClimate pic.twitter.com/AoiMMHBQhm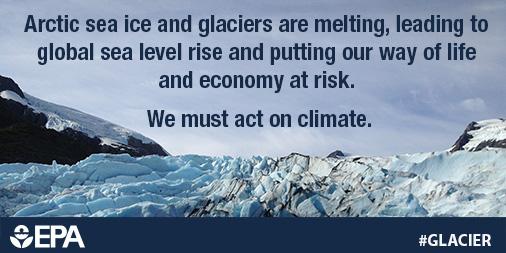 EU addresses the GLACIER conference
please see my speech, " the Arctic's Unique Role in Influencing Global Climate" ec.europa.eu/commission/201… #Glacier pic.twitter.com/OVqTrY19C3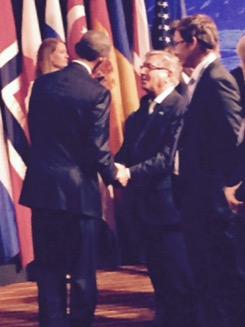 Karmenu Vella @KarmenuVella retweeted
Alaska: EU Commissioner @KarmenuVella addresses Ministers at #Arctic conference #EUOceanGov ec.europa.eu/information_so… pic.twitter.com/goPMFi1ms8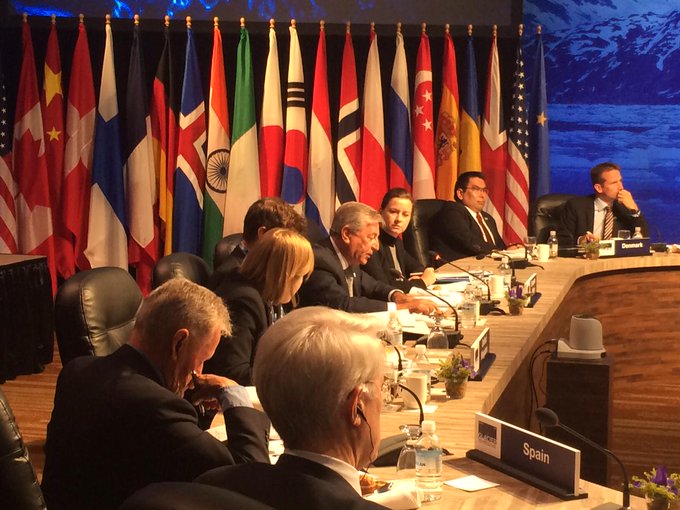 Excerpts from first link:
Suffice it to say that if the current trend continues, we could have a "nearly ice-free" Arctic ocean by 2050 at the latest. This beautiful state, Alaska, has over 100,000 glaciers, half of all in the world.  And we are seeing a large amount of ice disappearing in an unusually short time.  Scientists are telling us that the Arctic ice cap has thinned by more than 50 yards since 2012, about one sixth of its original thickness, and the ice flow is now 25 times faster. 
Press Articles on the Arctic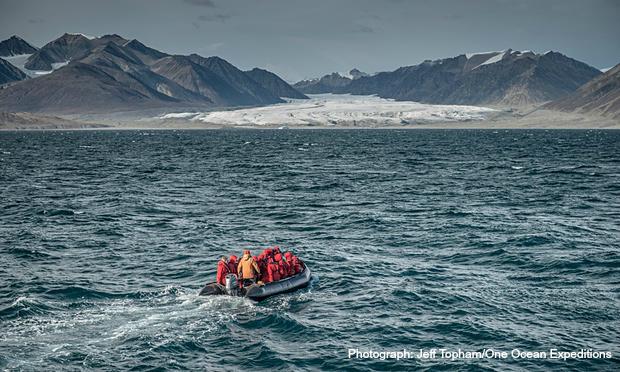 http://www.theguardian.com/world/2015/aug/30/my-arctic-journey-fragile-ecosystem-northwest-passage
Excerpts:
On biodiversity
"Consider the simple issue of algae. It grows on the underside of sea ice and is eaten by krill, which is then eaten by Arctic cod, which in turn is eaten by seals. Take away the bottom rung of this food chain and all sorts of unintended consequences could be realised."
On the Arctic political status
"The real problem that faces the Arctic is its uncertain political status, a point that is clearly demonstrated by comparing the region with its southerly counterpart, the Antarctic. The latter is controlled by the Antarctic Treaty, which bans all mining, oil drilling or the presence of the military. It also strictly controls all environmental hazards. By contrast, the Arctic is owned by a ragbag of nations – Russia, Canada, the US, Norway, Sweden, Finland, Iceland and Denmark (through its dependency, Greenland) – which have very different ideas about how to run the place and which have shown no inclination to outlaw mining or oil drilling or impose cast-iron environmental controls."
On drilling for oil in the Arctic
http://www.theguardian.com/us-news/2015/jul/16/al-gore-obama-climate-change-arctic-drilling
"I think the Deepwater Horizon spill was warning enough. The conditions are so hostile for human activity there. I think it's a mistake to drill for oil in the Arctic. I think that ought to be banned," Gore said.
http://www.theguardian.com/environment/2015/aug/29/obama-arctic-drilling-alaska-trip-climate-change
Meanwhile, Shell was forced to pause its drilling in the Chukchi and evacuate workers "because of extreme weather conditions", a company spokesman said in an email.
Arctic Oil Drilling
At the last part of his Alaska Travelogue (Day 3 in Alaska), President Obama cites his December 2014 action of withdrawing oil and gas drilling leases from Bristol Bay, Alaska.
2014-12-16: "President Obama Protects Alaska's Bristol Bay From Future Oil and Gas Drilling"
(Posted 2015-08-17)
US allowed Shell to drill for oil in the Arctic
http://www.reuters.com/article/2015/08/17/us-usa-shell-arctic-idUSKCN0QM1XL20150817
Chukchi and Beaufort Sea Leases - Source
The State of Alaska - Wikipedia
Excerpts from the following article by Brad Plumer:
http://www.vox.com/2015/9/2/9248593/shell-arctic-drilling-obama
2) So far, Shell's Arctic efforts have been bogged down by lawsuits and disasters
Shell's Arctic push got underway in 2008, when, under the Bush administration, the company spent $2.1 billion at auction to acquire leases in federal waters in the Chukchi and Beaufort Seas.
Early on, one drill ship, the Noble Discoverer, got dragged by gale-force winds and nearly ran aground.
Federal regulators then barred the company from drilling deep into hydrocarbon zones after a containment dome, meant to limit the spread of oil in a spill, had failed in testing.
It wasn't until September 2012 that the company finally began drilling two shallow "top holes" (the first step in an exploratory well) in the Chukchi and Beaufort. But things went awry. The Discoverer, in the Chukchi, had to give up prematurely after being menaced by a drifting ice floe. It later caught fire and had to be towed in.
The other drilling rig, the Kulluk, worked for two months in the Beaufort before autumn sea ice started forming. En route to being towed down to Seattle for repairs, heavy winds and waves snapped the rope. The crew had to be rescued, and the Kulluk drifted aground.
(...) 
To be clear, Shell is only drilling an exploratory well for now, and the company isn't predicting whether it will actually finish this year. What's more, even if it does find fossil fuels, Shell isn't expected to produce oil or gas commercially for at least 15 years.
Among other things, the company will still have to build a pipeline that stretches both undersea and then across Alaska to meet up with the existing Trans-Alaska Pipeline. And that's all assuming it will prove economically viable to extract the fuel (not certain), that oil prices will be high enough to justify production (not certain), and that regulations or litigation won't halt Shell's efforts (also ... not certain!).
(End of excerpts from the article by Brad Plumer).
The author of the article cites this Bloomberg article as an excellent resource:
http://www.bloomberg.com/news/features/2015-08-05/inside-shell-s-extreme-plan-to-drill-for-oil-in-the-arctic
Greenpeace on US arctic drilling
http://www.greenpeace.org/usa/arctic/stopping-offshore-drilling/
Yale e360 on Arctic drilling
http://e360.yale.edu/feature/oil_drilling_in_arctic_ocean_a_push_into_uncharted_waters/2882/
Russia
The Prirazlomnaya oil rig
http://www.bbc.com/news/world-europe-24427153
Image source
.@GazpromEN, @conocophillips among #fossilfuel companies that want strong #COP21 agreement http://bit.ly/1JDdVT0 
Excerpt:
'In fact, a majority (13) of the heavy emitters state their board backs a global agreement. These include Russia's Gazprom, the single biggest emitter of greenhouse gases among these carbon majors, and the US's ConocoPhillips. Eight report that they have no opinion on the matter and the remaining seven did not answer the question, which suggests either a lack of clarity around the official board position on the issue or that some companies are not treating the imminent COP21 with the necessary strategic priority.'
Follow along as @POTUS documents his trip to the frontlines of climate change in Alaska → https://medium.com/@PresidentObama/my-visit-to-alaska-touching-down-in-anchorage-beb35f773a62 …
(Day 1 in Alaska)