French Policy for Social Affairs and Health - "The Helpers" - "I help my elderly neighbour-parent" - How is the law created?
Politique des Affaires Sociales et de la Santé
J'aide mon voisin âgé, mon parent âgé
Les aidants (Les aidants proches - Les proches aidants) 
En leur absence les dépenses de l'Etat s'estiment à 164 milliards d' Euros
2016-02-29
La #LoiASV renforce et modernise le secteur de l'aide et des soins à domicile. En savoir + ow.ly/YMlhJ pic.twitter.com/P8z7zzaudc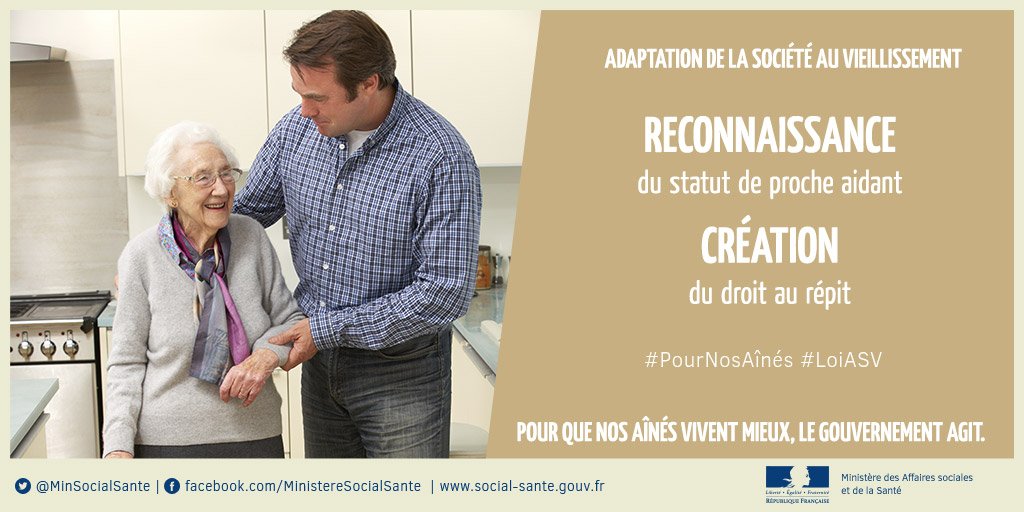 Comment se fait la loi ?
"Le rôle de LCP d' expliquer comment se fait la loi (...)" (parlementaire au journaliste lors des vœux)
Débat LCP sur les aidants
http://www.lcp.fr/emissions/ca-vous-regarde-le-debat/vod/178407-bien-vieillir-mais-a-quel-prix
Professionnalisation ? Salaire pour les aidants ? Congés similaires à enfant malade ? Informer pour soigner ?
 (La loi entre en vigueur)
http://social-sante.gouv.fr/soins-et-maladies/maladies/vivre-avec-une-maladie-chronique/article/les-aidants-et-les-proches
Nos invités @laurossignol @mamontchamp @Guerin_Serge et @phcrevel qui sont prêts pour le débat de #CVR sur @LCP
.@laurossignol : « Le service civique est un bon moyen pour les jeunes qui peuvent jouer le rôle d'aidants » @LCP #CVR
Lawrence Rossignol: Secrétaire d'Etat chargée de Famille, des Personnes Agées,de l'Autonomie et de l'Enfance
Sociologue Serge Guérin
Silver Economie : Une immense opportunité économique. « J'enseigne le Master « Politiques Gérontologiques » et tous mes étudiants trouvent du travail ! »
RT par Serge Guérin
Par la Compagnie des Aidants: "L'innovation sociale vient de la société civile, aider les aidants c'est aider la société"