European Commission - Press release
Trade for All: European Commission presents new trade and investment strategy
Brussels, 14 October 2015
Excerpts:
"Europeans know that trade can deliver jobs, growth and investment for consumers, workers and small companies. And they want more of those results. But they don't want to compromise on core principles like human rights, sustainable development around the world or high quality regulation and public services at home. And they want to know more about the negotiations we carry out in their name. 
So trade policy must become more effective, more transparent and more in tune with our values. In short, it must become more responsible. That's what we're doing today."
A responsible EU trade strategy also requires an up-to-date programme of trade negotiations that can help shape globalisation to the benefit of European citizens, companies and beyond:
It prioritises concluding major ongoing projects like the Doha Round of WTO talks, TTIP, the EU-Japan free trade agreement (FTA) and the EU-China investment agreement. 

It opens the door to new negotiations in the vital Asia-Pacific region (like Free Trade Agreements with Australia, New Zealand, the Philippines and Indonesia) and plans a deepening of the EU's relationships with African partners. This includes specifically requesting a mandate from EU Member States for free trade negotiations with Australia and New Zealand.

Modernising existing Free Trade Agreements with Mexico and Chile and the Customs Union with Turkey.
Watch @MalmstromEU live now on #trade4all http://ec.europa.eu/avservices/ebs/live.cfm?page=1 …
#Trade4all will focus on services, digital trade & on the movement of experts, senior managers & service providers
Under #trade4all we'll publish key negotiating texts from all negotiations, as we have done in #TTIP #transparency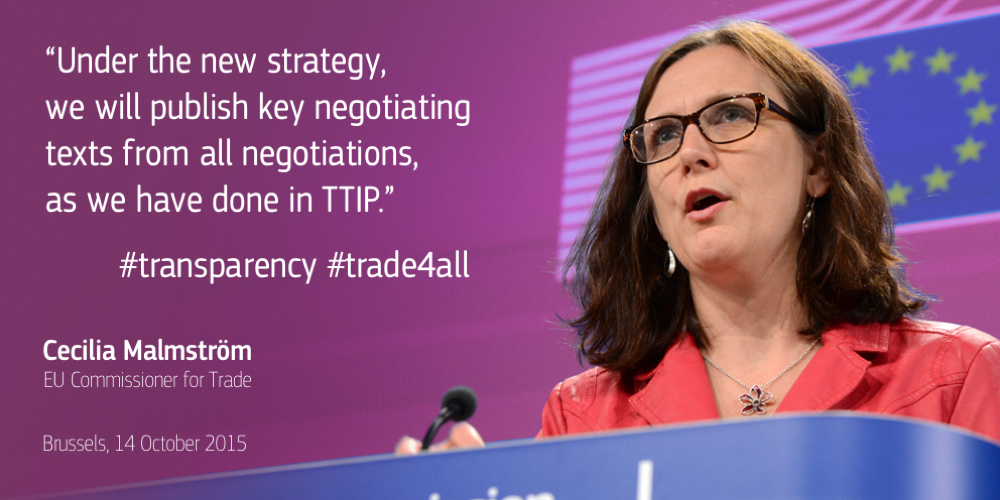 #Trade4all also opens the door to new negotiations. We'll propose trade talks with Australia, New Zealand & others