2015-10-20: "EU stands by its climate committments and its policies work"
2015-10-20: European Union is on track towards meeting and overachieving its 2020 target for reducing greenhouse emissions by 24% 
Report published today by the European Environment Agency (EEA)
"
These results speak for themselves: Europe succeeded in cutting emissions by 23% between 1990 and 2014 while the European economy grew by 46% over the same period. We have shown consistently that climate protection and economic growth go hand in hand. This is a strong signal ahead of the Paris climate conference that Europe stands by its commitments and that our climate and energy policies work. 
European Commission @EU_Commission
Climate protection & economic growth go hand in hand-"Trends and projections in Europe 2015" http://europa.eu/!cJ34xB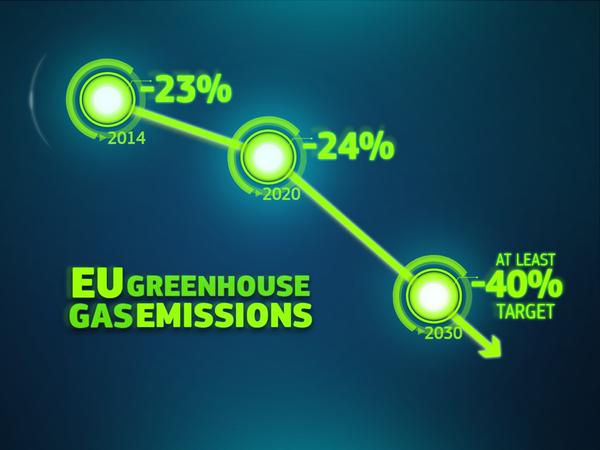 Submission of the EU Climate Action Plan
(2015-03-06)
[EU Climate Action & Energy Commissioner]
MITIGATING CLIMATE CHANGE
"EU greenhouse gas emissions have been decreasing and are now 19% below 1990 levels. Latest data confirm that the EU is on track to overachieve its 2020 target of a 20% reduction compared to 1990 levels.
The EU aims to decarbonise its energy system and cut its greenhouse gas emissions by 80 to 95% by 2050. To achieve this goal, it has set a binding target of reducing emissions by at least 40% compared to 1990 levels by 2030. Further efforts beyond currently implemented climate and energy policies are required to keep the EU on track towards these objectives."
"These commitments have been backed by concrete policies and measures to reduce GHG emissions in Europe. The EU implemented an 
Emissions Trading System
 (ETS) for industrial installations in power generation and manufacturing in 2005[
9
][
10
] and strengthened it in 2009 to help the EU achieve its 2020 objectives.[
11
] Since 2012, the EU ETS also includes aviation.[
12
]"
Interactive graph
20% reduction target by 2020
40% reduction target by 2030
80% reduction objective by 2050
95% reduction objective by 2050